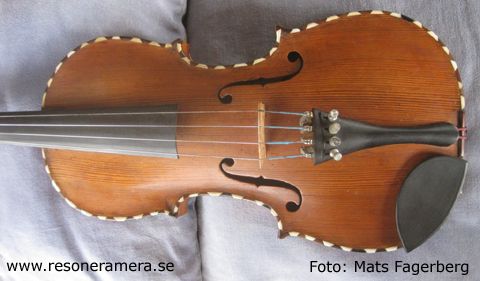 This fiddle looks like a standard violin but the owner identified it as a double-decker after a visit to this webpage. Small pegs where sympathetic strings can be attached indicates that the instrument has had a different scroll and pegbox with twelve pegs. You can also see that the neck has been changed. The name of the luthier is Johan Georg Mohte, a well-known builder from Ängelholm in Skåne. There has been indications that this instrument is to be found Stockholm Music Museum but this has proved to be wrong. Other information that this instrument has been kept at Nordiska museet in the early 20:th century is uncertain but the 1921 edition of Nordiska museet's annual publication "Fataburen" contains a reference to this istrument:
Fiddle, has possibly been a viola d'amore, marks of several strings is to be seen close to the end button. Intarsia with ivory in an arrow shaped pattern on chest and back around the ribs. Name label, fig. 7, of paper with a written signature: »Johan George Mothe in (?) Engelholm 1736». Owner: doctor John Nordlund, Stockholm.
The current owner is a relative to John Nordlund and year written on the label is identical to what is stated in "Fataburen". Most likely it is this instrument that referenced in older text. The violin has some intarsia on the edges and some painted patterns near the corner of the bottom. It is supposed to sound good and is easy to play on.
Johan Georg Mohte
Johan Georg Mohte, 1690/1695-1765, was the first in a family of luthiers in Ängelholm, Skåne. The origin of the family is unknown but they might be from Germany or possibly France. The large variation of spelling of the name makes research harder, even the same individual could spell the name in different ways. Mohte, Mothe, Motte, Måtte, Mote and Moethe are variations that have been used. According to Bengt Nilssons Svensk fiolbyggarkonst Johannes Georg Mothe was born in Dresden in 1695 (or 1690) but Anne Nilsson (author of Fioler) is not sure whether he was born in Sweden or not. Mohte arrived to Ängelholm in 1723 and applied to live there. According to Nilsson and Nilsson Mohte aquired his professional skills in Russia where he was inprisoned for 14 years (I assume it was after the battle of Poltava 1709 after which many Swedes were captured and sent to Siberia). There are two centers for professional luthiers in Sweden during the 18th century, Stockholm and Skåne (Ängelholm) and the Mohte family is among the most influential in the later category. Mohte was probably inspired by Joachim Tielke in Hamburg and several of his instruments (viols) was similar to Tielkes. There is no evidence that Johan Georg ever was studying for Tielke but it is possible. Johan Georgs son Johan Jörgen was granted priviledges for luthier work in 1748 and he had a son called Önnert who practised violin building in the 19th century. Johan Georgs son in law, Jacob Hellman was also a luthier in Ängelholm. Two gambas, a violin from 1745 and at least two but probably four Double-deckers made by Johan Georg Mohte have been preserved but there are no known instruments by his son or grandson.