RESONERA MERA!
Svenska fioler med resonanssträngar

This instrument was found in 2022 at a flea market in Angered, Gothenburg. The violin has the signature Johann Georg Mohte Engelholm 1748 and was almost intact but in bad condition. The intarsia along the edges is similar to several other instruments by Mohte and the pattern on the fingerboard is almost identical to Mohte 2. Part of the ribs near the tailpiece are changed so it is not possible to determine if the sympathetic strings was attached there or in the fingerboard, the former is more likely since that is the case for other Mohte-instruments. The fingerboard might have been removable but is glued now. The shape of the sides of the channel under the fingerboard has to be examined more to be able to determine that. The back of the pegbox has a nice pattern never seen before but the other known double-deckers that are known and not missing have had their necks changed to new one with a scroll so possibly they have had the same pattern originally. The pattern might be similar to the one on Edvin Karlssons fiddle but it is hard to tell due to bad quality of the scanned photos of Edvin Karlsson.
Johan Georg Mohte
Johan Georg Mohte, 1690/1695-1765, was the first in a family of luthiers in Ängelholm, Skåne. The origin of the family is unknown but they might be from Germany or possibly France. The large variation of spelling of the name makes research harder, even the same individual could spell the name in different ways. Mohte, Mothe, Motte, Måtte, Mote and Moethe are variations that have been used. According to Bengt Nilssons Svensk fiolbyggarkonst Johannes Georg Mothe was born in Dresden in 1695 (or 1690) but Anne Nilsson (author of Fioler) is not sure whether he was born in Sweden or not. Mohte arrived to Ängelholm in 1723 and applied to live there. According to Nilsson and Nilsson Mohte aquired his professional skills in Russia where he was inprisoned for 14 years (I assume it was after the battle of Poltava 1709 after which many Swedes were captured and sent to Siberia). There are two centers for professional luthiers in Sweden during the 18th century, Stockholm and Skåne (Ängelholm) and the Mohte family is among the most influential in the later category. Mohte was probably inspired by Joachim Tielke in Hamburg and several of his instruments (viols) was similar to Tielkes. There is no evidence that Johan Georg ever was studying for Tielke but it is possible. Johan Georgs son Johan Jörgen was granted priviledges for luthier work in 1748 and he had a son called Önnert who practised violin building in the 19th century. Johan Georgs son in law, Jacob Hellman was also a luthier in Ängelholm. Two gambas, a violin from 1745 and at least two but probably four Double-deckers made by Johan Georg Mohte have been preserved but there are no known instruments by his son or grandson.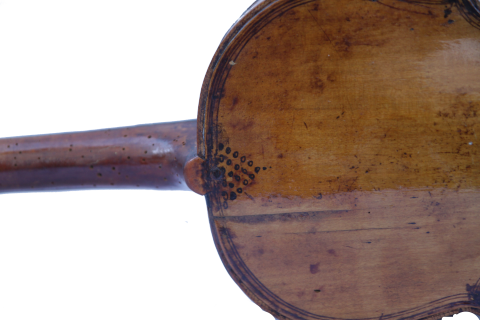 Copyright 2009-2020 Jon Magnusson