RESONERA MERA!
Svenska fioler med resonanssträngar


Photo: Jon Magnusson
This neck can be found at the Swedish museum of performing arts (formerly known as Stockholm music museum). It was the first double-decker with four sympathetic strings that I came across and lately two similar instruments has showed up. One of those might be built by the same person (Långalmafiolen) and possibly even "Munken" might have the same origin. Otherwise there is very little information about the instrument. It is supposed to be added to the museums collection by someone called Scherdin. I call it Lumière due to similarity to a character in an animated movie. Daniel Fryklund has claimed that he has a violin neck with four sympathetic strings mounted in a row of pegs below the pegs for the playing strings. It could be Lumière but it could also be another fiddle neck at the Swedish museum of performing arts. I haven't heard that Lumière comes from the Fryklund collection and it has another ID-number (Fryklunds instruments should have ID-numbers that starts with F). So perhaps there is a hidden violin neck in their collections, or maybe it was never transferred to the museum after the death of Fryklund.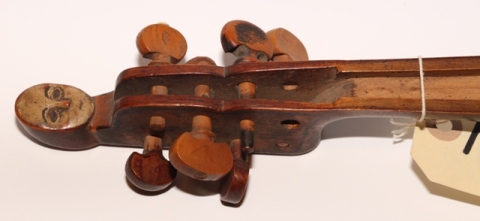 Photo: Jon Magnusson
Copyright 2009-2020 Jon Magnusson